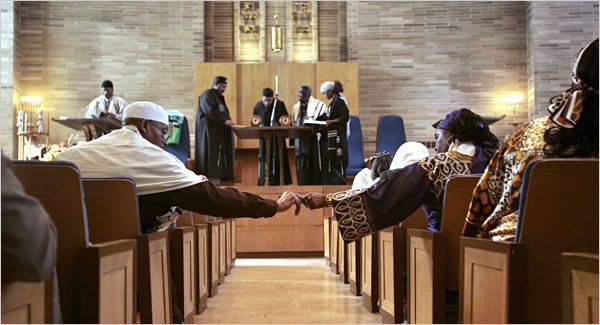 "I am a Jew," said Rabbi Capers CFunnye, "and that breaks through all color and ethnic barriers." The rabbi has his congregation on the Far Southwest Side of Chicago. This is a predominantly black, and while services include prayers and biblical passages in Hebrew, the worshipers sometimes break into song, swaying back and forth like a gospel choir.

Rabbi Funnye grew up as a Methodist but was not satisfied with his spiritual journey. He says, "Judiasm" has helped to renew his sense of his own spirituality. In the past, efforts to reach out to the mainstream Jewish community have been met with suspicion and rejection, said Lewis R. Gordon, the director of the Center of Afro-Jewish Studies at Temple University




"People ask me, 'As if you aren't already in a bad enough situation being black, why would you want to be Jewish?' " said Tamar Manasseh, 29, a lifelong member of Beth Shalom.
That is why many groups stay separatist, aligning themselves more with black nationalism than with traditional Jewish groups.

Source: NYTimes.com