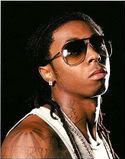 Well he got the boy huh? Maybe this baby will have him settling down. Lil' Wayne, whose real name is Dwayne Michael Carter, Jr., was on hand at the birth of his newborn son, Dwayne Michael Carter III, who was born at the Christ Hospital in Cincinnati.


There have been other rumors that state that the mother of his child is a 22-year-old Vietnamese/Caucasian model named Sarah B, a native of Cincinnati.
"Sarah met Wayne at a concert three years ago and she followed him on tour after that," according to Babble.com. "The pair have been an on-again, off-again couple for some time. I'm assuming they're on again." this reported by a Cincinnati tattoo artist, Sarah even has her chest tattooed with Mrs. Carter and her back tattoo says Weezy," continued the Babble.com report.
Lil' Wayne was rumored to be engaged to Nivea
I couldn't care less who the baby mama is, but I do wish him baby a healthy an happy life.
Read More----> Here