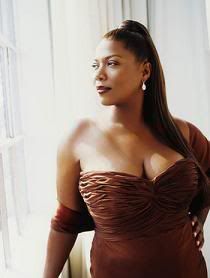 Well, this has been a long running rumor. To be honest WHO CARES. Obviously many do because it is all over the news. I love Latifah. I have been following her from "Ladies First" She along with M.C. Lyte were my "female rap" sheroes back in the day. "I don't have a problem discussing the topic of somebody being gay, but I do have a problem discussing my personal life," Latifah, 38, told Sunday's New York Times magazine.


Latifah had been linked to her longtime personal trainer. Last December, she denied rumors that they were getting married.
"People will make up all sorts of things that are not true," she told the Chicago Sun-Times. "There ain't gonna' be no wedding."
I don't know she played that part "EXTREMELY WELL" in SET IT OFF. I'm just saying...