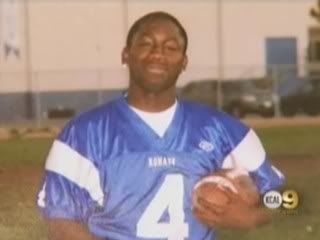 This story is so sad. It is also representative of what is happening to our kids.
Police are seeking he public's help in identifying two gang members who fatally shot a 17-year-old Los Angeles High School football star in an unprovoked attack just a few yards away from his home in Arlington Heights.


Jamiel's mother, Anita Shaw, is a sergeant in the Army serving her second tour of duty in Iraq. KCAL9 reported she was coming home in the aftermath of her son's death.


The friends and family have recalled Jamiel Shaw as someone who was not affiliated with a gang and was apparently in the wrong place at the wrong time.
Police say football standout Jamiel Shaw, 17, was killed Sunday night when gang members approached him and asked if he was a gang member.

He was up and coming football star. His dad said that he was already being approached by several football organizations. What is so sad is that this story is probably one in many stories happening all over our nation in our country's inner city. It gets lost because this young man wasn't a celebrity, he wasn't a star, but to his mom and dad.

This story hit home to me because my son is currently attending College in Los Angeles. He was followed by the police a couple of days ago because he was wearing his Dallas Cowboy skull cap.
The police threw him up on the wall an if it wasn't for several passerby's who pulled out their cell phones (probably to video tape) who knows what might of occurred.

He was mistaken for a gang member simply because he choose to wear a "blue" hat (with a star on the front, which clearly said "Dallas Cowboys." He could of just of easily been shot by a gang member who thought he was a rival.

Here is a mother who is serving duty for her country in Iraq and her son is gunned down. When does all this gang violence end? The same cops that were trailing my son (because he didn't check what color hat he put on that day) where where they when these gang members pulled a gun on this young man. The world is real twisted.