Okay, what rock did these ignorant folks crawl out of? It seems the editors of The New Yorker magazine did a cartoon cover that depicts the Democratic candidate( Obama) and his wife as fist-bumping terrorists.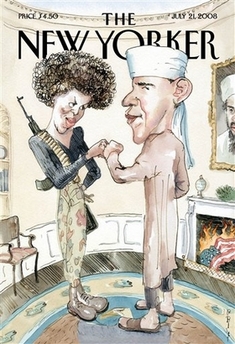 The magazine's editor stated that it was a satire called, "The Politics of Fear." It was suppose to be a satire of how Obama's opponents view him. However, Obama's camp was less then pleased with the images. Now would you blame them? Would you show a man raping a child, just to get the point across that rape of a child is wrong?

Editor David Remnick was shocked at the press and negative feedback given. He stated, "Our cover combines a number of fantastical images about the Obamas and shows them for the obvious distortions they are, " he said in a statement.

"The burning flag, the nationalist-radical and Islamic outfits, the fist-bump, the portrait on the wall - all of them echo one attack or another. Satire is part of what we do, and it is meant to bring things out into the open, to hold up a mirror to the absurd. And that's the spirit of this cover," Remnick said.
So if that is the "spirit of the cover," then were is McCain's cover?