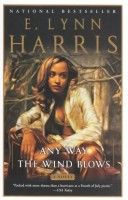 I have to start out by saying that this was a man who defied the "status quo." It took so much guts an fortitude for him to bring the world of the gay and the downlow man out in the open.
I am so shocked. I just read,"Anyway the Wind Blows," last week. Harris was a very proud Razorback cheerleader at the University of Arkansas who struggled with his own sexuality before becoming a pioneer of gay black fiction, Harris died Thursday at age 54 while promoting his latest book in Los Angeles.
For awhile he was alone in exposing the "down low," but the phenomenon exploded into mainstream culture in 2004, a decade after "Invisible Life."
Source: AP NEWS