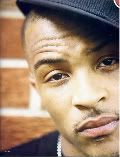 Time flies is an understatement. I bet T.I. is wishing it didn't. T.I.'s
one year jail sentence
is creeping up rather quickly. However, since his sentence was handed down, the rapper has been putting in work with the little time he has left.
His song "papertrail" has been a mega success. His jail term is March for
felony weapons charges
. He is planning for his family and other plans before he transitions into incarceration.
He told MTV a video for "Dead and Gone" is next, with Justin Timberlake